As much as we love Bangkok's big-name rooftop bars, sometimes it's nice to not have to worry about whether you're wearing the right shoes, or sweat as the waiter arrives with the bill at the end of the night.
The good news is, a whole bunch of smaller, secret rooftop bars have been popping up across Bangkok for the last couple of years; you still get the good views, summery outdoors atmosphere and quality drinks – just all at a lower height, and often half the cost. From jazz bars overlooking the Skytrain, to hipster-hangouts five floors above the Old City, here's our list of 11 alternative rooftop bars in Bangkok.
Interested in this tour? Book it here.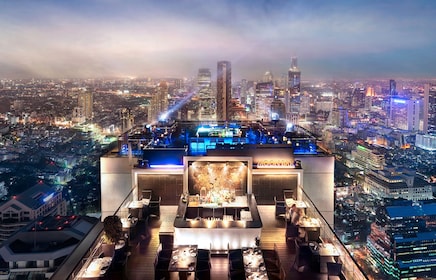 per traveler
Free cancellation
Book
1
Wanderlust Rooftop
Thonglor
Wanderlust bar follows Bangkok's obsession for fake plastic grass so much so that they've even slapped it on top of some of the tables – nice eye-candy for your Instagram followers, maybe not so good for balancing that cocktail glass. Bright artwork covers the walls, whilst the rattan chairs and dangling light bulbs complete the hip student bar vibes. Shisha is also available (around 400 baht), and the menu has a modest selection of beers (from 120 baht), cocktails (from 200 baht) and pub food like fish n' chips, burgers and ribs (from 200 baht). Find it on the fifth floor of the Nakiya Japanese Restaurant Building on Thonglor Soi 13.
Opening Hours: 17:00-02:00 Daily
Location: 5/f Nakiya Japanese Restaurant Building, Thonglor Soi 13
Tel: +66(0) 8665 55328
2
Jham-Jun Pranakorn
Old City
This once-hidden gem is becoming more popular by the day, with the Khao San crowd gradually realizing that you don't have to travel across town to Vertigo or the Sky Bar to experience a decent rooftop bar. Views from the top are nice (you can see the impressive Rama VIII Bridge and Phra Sumera fortress) along with plenty of other perks. The cute fake-grass lawn at the very top is a nice gimmick with some comfy floor seating, and an in-house band play local covers as the sun sets over the Old City. To find it, enter Fortville Guesthouse just around the corner from Phra Arthit Road and take what seems to be the world's slowest elevator to the fifth floor.
Opening Hours: 18:00-01:00 daily
Location: 5/F, Fortville Guesthouse, Phrasumeru Road
Tel: +66(0)2 282 3932
Sitting on top of the newly opened fourth floor at Mercury Ville, views from Roof 409 are surprisingly good (considering its modest height), looking out over Chidlom BTS, as well as the surrounding skyscrapers of Siam and Langsuan. The French-born owner has stayed true to his roots, with the swanky indoor bar taking on a Parisian brasserie-feel complete with white tiles and plush chrome installations. Cocktails are good, if not on the pricey side (this is Chidlom after all), whilst specialties from the modern European bistro menu rotate daily. Read More...
Opening Hours: 11:00 – 00:00 daily
Location: 4/F, Mercury Ville, Chid Lom, Bangkok
Tel: +66 (0) 81 995 6984
Grease on Sukhumvit 49, best known for its first-floor nightclub (LSD), also has a stylish rooftop bar at the top, good for some laidback cocktails and shisha with friends. Views here are rather non-existent (unless you're a fan of car parks and low rise condos), but we do love everything else - from the fake garden lawn, to the low seating built into the miniature forest of sculptured metal trees. The last time we went, the local band impressed with some lively international covers, and there's always the option of ending the night raving away downstairs in the L.E.D tripped-out nightclub - just don't expect things to get busy here until around midnight. Read More...
Opening Hours: 18:00-02:00 daily
Location: 4/F Grease, 46/12-13 Sukhumvit Soi 49
5
Water Y Restaurant
Lad Phrao
Water Y promises some superb rooftop views, made all the more memorable thanks to the nearby Elephant Tower, one of Bangkok's most iconic – and loveable – buildings. The 12th floor bar features a spacious outdoor area complete with swimming pool (which we've never actually seen anybody use), as well as an air-conditioned inside option. This is also one of the few rooftop bars in Bangkok that keeps the food simple and cheap: think Thai pub classics like laab moo, raw shrimps in fish sauce, and spicy 'yam' salads. Drinks go more sophisticated, with a selection of imported wines and largers by the bottle, signature cocktails and local beers on draft. Although set a little away from the city, Water Y is still easily reachable by BTS (via Mo Chit and a short taxi ride). Find it on the top floor of the Pisavit Tower.
Opening Hours: 17:30-24:00 daily
Location: 12/F, Pisavit Tower, Phaholyothin 24, Bangkok
Tel: +66(0)2-939-4917
Enchanted Bar takes all the signature features of your typical Thonglor bar (imported beers, fancy cocktails, shisha, live acoustic music, and slightly inflated prices) and places it all on a nice rooftop space four floors above J Avenue (Soi 15). Views are nothing to write home about, but the elevated position does mean you'll feel one or two degrees cooler than on the ground. The bar is quite spacious with rows of tables lining the balcony edge, and we've never had a problem getting a seat at peak hours (unlike similar nearby bars nearby like HOBS and Brew). If you're on a tight budget be careful about indulging in their signature shots and cocktails.
Opening Hours: 18:00-02:00 daily
Location: J Avenue, Thonglor Soi 15, Bangkok
Tel: +66(0)95 641 6626
7
Skytrain Jazz Bar
Victory Monument
This hippy-student hangout wins us over every time with its unique view of the Skytrain rattling past, as well as some great live jazz sessions in the evenings. Mismatching retro furniture, empty whiskey bottles from the night before and overly casual service all make this feel more like a rooftop garden on top of a student flat - rather than one of Bangkok's famous glistening rooftop bars, but that's all part of its charm. Drink options are limited with local beers, spirits and classic cocktails only, but there is a long list of Thai dishes which are cooked in the tiny kitchen downstairs and brought up. One word of warning: it's on the sixth floor and there's no lift.
Opening Hours: 17:00 - 01:00 Daily
Location: Skytrain Jazz Pub, 6/F, 6 Rangnam Road, Bangkok
Tel: +66 (0)2 640 0303
Nest has long established itself as one of the coolest places to drink on the nightlife-centric Sukhumvit Soi 11, thanks to its cocooned bed-like seating arrangements, quality live DJ sets and an open alfresco terrace looking up at the stars (or lack of them). The well-stocked bar does an impressively long list of cocktails, although beer choices are limited to Heineken, Asahi and Singha from 120 baht. Look out for themed parties and DJ events on their Facebook too. Find Nest Rooftop Lounge on the top floor of Le Fenix Hotel, a short taxi ride up Sukhumvit 11 from Nana BTS. Read More...
Opening Hours: 18:00 -02:00
Location: Le Fenix Hotel, Sukhumvit Soi 11
Tel: +66 (0) 2 305 4000
With views stretching across to the awesome Bhumibol Bridge, an industrial décor theme and a delightful veranda protruding out over the greenery of Bangkok's riverside, there's plenty of reasons to love Qlick Rooftop Bar. The drinks menu reads more like a Thonglor hotspot rather than a suburban bar, with a long lineup of craft beers, imported wine, fancy cocktails and Bangkok's latest craze, colourful, boozy ice with a bottle of corona dunked in the top. It all sounds great, but there's one hitch: it's a little bit far from downtown Bangkok, with no major transport links nearby. Tell your taxi to head to Green Republic Plaza on Rama 3 Road (between soi 39 and 40), then walk up to the third floor.
Opening Hours: 17:00-01:00
Location: 3/F Green Republic Plaza, 979/9 Rama 3 Road, Bangkok
Tel: +66(0)2 101 4937
This Thonglor-ite favourite takes on a distinct Middle Eastern/Bollywood theme, with everything from the décor, menu and never-ending supply of shisha all helping to create the exotic vibes. Most of the space is inside, with the large room offering comfy floor seating, tables designed specifically to fit the shisha pipes and more importantly, air conditioning. Move outside and you'll actually realize this is a rooftop bar; the views from the seventh floor are good too, looking towards the high rises of Sukhumvit in the distance. Desi Beats is part of the Opus Building on Thong Lor Soi 10, also home to the similar Bombay Blues Bar on the third. Read More...
Opening Hours: 18:00-02:00
Location: 7/F Opus Building, Thonglor Soi 10
Tel: +66(0) 81 683 8889
11
Sky Moon Bar & Bistro
Rama 3
A short taxi jump from Sathorn, Sky Moon Bar & Bistro on top of Vanilla Moon community mall is about as Thai as it gets: this means an almost exclusively local crowd, a menu full of local dishes, pretties refilling your glass, and bands playing indie covers. Views from the 10th floor are good if you grab a city-facing table, and the whole outside patio area makes a good spot for cocktails. Venture inside, however, and things get a bit weird; the small room resembles a cheap nightclub, with tacky plastic seating, florescent cityscapes painted on the walls and an overall colour scheme that's almost tear-inducing. That said, we still think it's worth a visit if you're looking for a fun, cheap place to drink where you won't be surrounded by tourists.
Opening Hours: 18:00-01:00 daily
Location: 10/F Vanilla Moon Community Mall, 1266/1-3 Tanon Chan, Bangkok
Tel: +66(0)2 1110178
Rate This Place:
( votes)